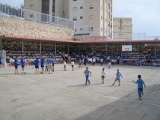 Israel is a land on paradox. During the one week the Athletes in Action team had in the North of Israel serving in Arab areas, a story about them reached the news and a man who did the TV interview said, "I am a Muslim but I have never been to a mosque. I attend church every Sunday and graduated from a Baptist school. But actually I am an atheist and a communist!"
The Athletes team was organized by ?Athletes in Action ? The Netherlands? but the team up by only two people from the Netherlands, while three others came from Scotland, one from the USA, and one from Switzerland, two from Germany, and one from Jordan who joined us in Israel. The primarily work was done in Nazareth, the main city among the Arab minority in Israel
The program included running physical education classes in two Christian schools and a public school that is 90% Muslim. In Christian schools the team used sports parables (illustrations from sports to teach biblical truths) to clearly present the gospel. In the public school they could not be as straight forward with the gospel, but they were also able to present a message of hope and peace.
The afternoons were designated for ?Sport Clinics? with around 45-50 youth, were they used dramas and testimonies to present the gospel. This is where many young people gave their lives to Jesus.
In the evenings the Athletes in Action team organized a soccer tournament with seven evangelical churches. It was the first time that these churches had seen or participated in such an event. At the conclusion of the tournament some of the churches enthusiastically expressed a desire to begin a sports ministry in their churches.
One of the members of the team tells a small incident that explains the potential of such events. ?One evening the team was invited out by three of the youth (two who are Christians and one who is a Muslim). They have met them at one of the schools. They showed us around Nazareth and then we went to a coffee house. As we were sitting around talking I had the opportunity to clearly present the gospel to them. After I had finished one of the youth said, ?Let's not play sports any more. Instead you can just tell us more about God!!? WOW! Hungry hearts!?
The team plans to come back to Israel with 2000 people in the summer of 2005. They plan on getting to work with various teams from 10 cities in Israel. The aim is to do this in close collaboration with local churches, where God has already started His work. Together, they plan to spread the gospel through the platforms of sport and drama. To learn more about this project check this
link