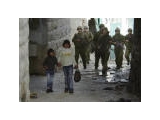 UNITED NATIONS -- As Christmas approaches, Bethlehem is an isolated town with boarded up shops instead of a bustling cultural and spiritual center hosting tourists and pilgrims from around the world, a new U.N. report says.
The report released Monday paints a bleak picture of future prospects for the birthplace of Jesus unless the Israelis and Palestinians reach a political settlement that removes a host of obstacles.
Urban Bethlehem, with a population of about 61,000, is now surrounded by nine Israeli settlements, roads restricted to Israelis, a multitude of checkpoints, 78 physical obstacles, and an Israeli barrier nearing completion on two sides of the town to protect against suicide attacks and other violence, the report said.
As a result, Bethlehem has become isolated from the rest of the West Bank and most importantly from Jerusalem which is only a few miles away, it said.
Tourism has plummeted from a monthly average of 91,726 visitors in 2000 to 7,249 in the first 10 months of 2004, a slight increase over 2003, it said. Since Bethlehem's residents rely overwhelmingly on the tourism sector, the economy has suffered badly.
The report entitled "Costs of Conflict: The Changing Face of Bethlehem" predicted that tourism will pick up over Christmas following a joint announcement by the Israeli and Palestinian tourism ministers on Nov. 24 of cooperation "in promoting tourism to the Holy Land."
"However, this improvement is not sufficient to significantly alter the dim economic prospects for Bethlehem's future," it said. "Tourist visits are at best sporadic and unpredictable with traders opening their shops only on the arrival of a tourist bus."
Before the latest fighting began in September 2000, the population of the Bethlehem area was evenly divided between Christians and Muslims. But since September 2000, 10 percent of Bethlehem's Christian population has moved to other countries, the report said.
"This is likely to have a negative impact on skills and capital investment in Bethlehem's tourism sector and significantly alters the ethnic diversity of the city," it said.
The report by the U.N. Office for the Coordination of Humanitarian Affairs and the U.N. Office of the Special Coordinator for the Peace Process in the Middle East stressed that Israel is required under international law to ensure access to Christian, Jewish and Muslim holy places under its control.
Since 1993, however, it said measures taken by Israel to provide security to its population have restricted Bethlehem's Christian and Muslim worshippers from accessing their holy sites in Jerusalem.
"Restricting access to Jerusalem's and Bethlehem's holy sites runs the risk of aggravating religious divisions in an area that has historical and religious importance for those of the Christian, Muslim and Jewish faiths alike," the report said.