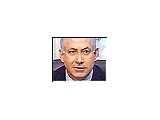 Benjamin Netanyahu, former prime minister of Israel, brought a crowd of mostly Christians to their feet Monday night with a message of Christian and Jewish unity in supporting Israel.
The audience of 4,500, mostly members of the Calvary Chapel, 2401 W. Cypress Creek Rd. in Fort Lauderdale, where the event was held, applauded most when Netanyahu and other speakers talked of Jews' rights to Israel and the inevitability of Israel's victory in the current prolonged conflict with the Palestinians.
``There is a battle that is raging as we speak, and in this battle, Israel will win,'' Netanyahu said to a chorus of applause. The night was also a fund-raising opportunity for the small Israeli town of Ariel. At the end of the night, people donated money to the town in the same way that the chapel collects money at its services -- in brown boxes at the back of the sanctuary.
Ariel's mayor, Ron Nachman, touched on a similar note as Netanyahu, speaking on the importance of keeping Ariel, and the contentious land of Jerusalem, in Jewish hands. ``It's not Arafat's city,'' Nachman said of Jerusalem. ``It is God's city.''
Nachman quoted from the Bible on this topic, as did the pastor of Calvary Chapel's Fort Lauderdale ministry Bob Coy.
Coy reiterated a theme heard throughout the night, that Jews and Christians share the same God, and that God has commanded Christians to support Israel and the Jews, the chosen people.
``If we are indebted to them in spiritual things, how much more are we indebted to them in material things,'' Coy said.
Deena Shalit, executive director of American Friends of Ariel, admitted that asking Christian groups to support Israel is not the traditional way of building a country that has relied on American Jewish dollars and lobbying since its founding in 1948.
Shalit said the jaws of her all-Jewish board of directors dropped when they heard a gospel singer perform a rendition of Israel's national anthem.
But because Shalit has organized six events like this, she said she was not surprised, and either was Netanyahu, who she said has spoken to groups like this before. Netanyahu seemed at ease with the crowd, who greeted with admiration a man many Americans felt derailed the peace process during his term.
After first acknowledging Coy as also a ``prime'' minister, Netanyahu talked about the history of Jewish and Christian partnership in Israel, as he joined Nachman and Coy in asking the congregation to support Israel today.
``The partnership we have today is one that goes back at least a century and a half,'' Netanyahu said.
Visit the Church web site at
www.calvaryftl.org