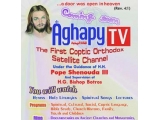 A Biblical quotation and a glowing Jesus next to a Coptic cross top the channel's promotional poster, which promises viewers a bonanza of hymns, holy liturgies and documentaries on ancient monasteries.
Aghapy TV - which means "love" in the Coptic language - is due to start broadcasting on November 14 on Telestar 12, a U.S.-operated satellite network which spans Egypt and several African countries.
"The channel is under the guidance of Pope Shenuda III himself, who appointed a general committee of 13 bishops," Aghapy executive director Father Bishoy al-Antony said.
He said the channel would be run out of a convent northeast of Cairo.
The launch will come less than a month after the CD release of a play produced by a church in Alexandria which was deemed by Muslims in the Mediterranean city as offensive to their faith.
Father Bishoy said the controversial film will not be shown on Aghapy TV. "But it's a completely Coptic outlook, we are not going to discuss anything except issues that are related to the Copts," he said.
"We first proposed to have our own radio in 1951. It was rejected and since then it has been our dream to have this TV ... It is not easy to build churches in Egypt, so this is like home delivery, church on air," Father Bishoy added.
Copts are the largest Christian community in the Middle East and the church says they account for close to 10 percent of Egypt's 74 million inhabitants.
It says the television channel does not herald a more aggressive attempt to promote a religious identity against Islam and proselytize, but some secular Copts fear it will only fuel religious tensions.
"I am against any communal posture. I think it will harm national unity," said Mounir Fakhri Abdel-Nour, a Coptic businessman and MP for the liberal Wafd Party.
"For decades, some two million Egyptians have gone to work in the Gulf and are bringing back an extremist culture which did not exist before in Egypt. Some Arabic channels also convey a very radical Islamic culture, but having a Coptic television is not the way to deal with these issues," he said.
Al-Hayat, a Christian Cyprus-based satellite network which often takes a stance against Islam, is popular among Copts.
Prominent Coptic thinker Milad Hanna is also concerned. "I'm afraid this television reflects the new ambitions of the Coptic Church. Pope Shenuda is a fanatic leader," he said.
"It would be a good thing for Egypt if secular Copts were more organized, but this television is only going to propagate religious ideas and this is what leads to clashes like those that happened in Alexandria," he said.
Funded only by donations, many of them from North America, the channel will strengthen ties with the Coptic diaspora.
Rizk, 30, who lives and works in a mainly Coptic community of rubbish collectors in an insalubrious strip clamped between a hill and a motorway, feels far removed from the buzz surrounding the launch of Aghapy TV.
"We barely have electricity, how am I going to get a satellite dish just for this channel? Instead of asserting religious feelings, which goes against the nature of Egyptian identity, maybe efforts should focus on fighting poverty." - AFP