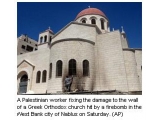 A group calling it self the Osoud Al Tawheed "Lions of Monotheism" claimed responsibility for the attack. The caller said the attacks were carried out to protest the pope's remarks about Islam.
The bombs damaged windows and left black scorch marks on the walls of the two churches.
Father Yousef Saada, a Melkite priest, said several firebombs hit the outside wall of the church.
Father George Awwad, Greek Orthodox priest in the village condemned the attack and slammed the remarks of Pope Benedict XVI about Islam.
Awwad described the act as ?childish?.
Awwad added that the Pope does not represent all Christians and called on the Palestinians to remain unity.
On Friday, Palestinians protested against the comments of the Pope, Christian churches in Palestine also slammed the comments.
After the Tuesday speech of the Pope in Germany, and his remarks on Islam ?spreading the violence?, anger spread among the Arab and Muslim world, thousands of Palestinians marched in Gaza and demanded him to apologize.
Several churches in Palestine also slammed the Pope's statement, Father Awwad said that ?the Palestinians are brothers and sisters during bad and good times, tolerance in the common oxygen Christians and Muslims breathe here in Palestine.
Adli Yaaish, Nablus Mayor and a Hamas leader, slammed the attack and described it as irresponsible. His statements came as several leaders gathered at the scenes of the attacks.
?We condemn this irresponsible attack?, Yaaish said, ?This will not affect our unity?.
A small explosion took place on Friday in a youth center run by the Greek Orthodox Church, in Gaza. The explosion took place at dawn causing slight damage to the windows and doors. The church itself was not damaged.