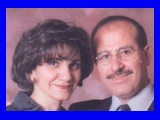 There is other news out of Gaza. It is of an attempt to crush the only evangelical church in that 224-square mile strip of land on the Mediterranean that is home to more than 1.4 million Muslims.
"Strike the shepherd," God warned the prophet Zechariah, "and the sheep will be scattered."
Rev. Hanna Massad shepherds Gaza Baptist Church, a burning light in the heart of the Gaza Strip. Four years ago, shortly after his marriage to a young Jordanian woman named Suhad, the couple was separated when the Israeli government refused to allow her to return to her husband from a visit to her parents in Amman.
After much prayer, many letters and the efforts of an attorney in Jerusalem, Suhad finally was allowed to come home.
Several months ago, she took their 21-month-old daughter, Joyce, to her parents' home to deliver their second daughter, Jolene. Recently, Pastor Hanna was able to leave Gaza to bring his family home.
Again, however, the Israelis refused to issue visas to Suhad and their daughters.
"I came back to Gaza through the Ellenby bridge because the Rafah border is closed," Rev. Hanna explained. "When I came to the Erez checkpoint, I had to endure a very painful and humiliating body search by the Israeli security."
Now he is struggling to recover his family.
Concerned Christians in the West who want to help restore Suhad to her husband and Joyce and Jolene to their father-and help them continue to spread the gospel among Palestinian people-are encouraged to fax a message urging their release to the Israeli Embassy in Amman, Jordan at 962-6-5525177. You may also call directly by telephoning the embassy at 962-6-5524680-8. Letters by post would not arrive in time.
This is their last hope in Jordan. If this fails, they must resort to the Israeli courts, which can take a very long time and may not succeed.