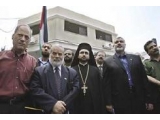 "I am afraid it is going to get worst now that the border with Israel will be sealed tight," Al Janssen, director of communica! tions for Open Doors International, said to The Christian Post on Friday. "If food isn't getting in and water isn't getting in then there is going to be a humanitarian crisis."
However, Janssen noted that he hopes the conversations between Hamas leaders and Open Doors founder Brother Andrew "will bear some fruit."
Brother Andrew had built a relationship spanning over a decade with Hamas leaders. In December 1992, over a thousand Hamas leaders were deported from Israel and left on the side of a mountain in Lebanon. Brother Andrew had flew in and visited the Hamas camp in a humanitarian way and gave Bibles and his book "God's Smuggler" to them, who in turn invited Brother Andrew into their tent for a meal.
When the Hamas leaders later were able to return to their countries, Brother Andrew in turn hosted meals for Hamas leaders where he would testify about the Gospel. The two built a friendship where they would mutually challenge each others religious beliefs but would do so with respect. "Hamas are still people who need to hear the Gospel," Janssen said. "Maybe at night, one of them would think about God and where he will go when he dies. We as Christians should spread the Gospel and not just cut them off."
The Islamic militant group Hamas, which is considered a terrorist group by the United States and many Western nations, began to fully rule Gaza on Friday after a bloody power struggle with Fatah forces. Over five days, nearly a hundred people died and dozens other were injured in the impoverished land, according to The Associated Press.
As a result of the coup, Palestinians are now split geographically and politically into the Fatah-ruled, U.S. and Israel-backed occupied West Bank and the Hamas-ruled, Iran and Syria-backed Gaza Strip.
The conflict has also resulted in the dissolve of the Fatah-Hamas agreement to mutually rule the country. Western-backed president Mahmud Abbas of the Fatah party has announced the firing of Hamas prime minister Ismail Haniya, who has disregarded the announcement.
The United States, European Union, United Nations and Russia – the Quartet of Middle East mediators – have all given a "clear message of support" for Palestinian President Mahmoud Abbas, according to Reuters. Washington, Europe and Israel are preparing to provide finances to the more secular Fatah power.