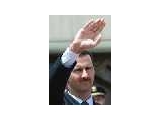 WASHINGTON (AP) - The State Department criticized anti-Jewish comments by Syrian President Bashar Assad, accusing him of inflaming religious passions and hatred.
Greeting Pope John Paul II in Damascus on Saturday, Assad said, ``Territories in Lebanon, the Golan and Palestine have been occupied by those who even killed the principle of equality when they claimed that God created a people distinguished above all other peoples.
``They tried to kill the principles of all religions with the same mentality in which they betrayed Jesus Christ and the same way they tried to betray and kill the Prophet Muhammad,'' Assad said.
State Department spokesman Richard Boucher said Monday that Assad's remarks ``are as regrettable as they are unacceptable'' and he endorsed the pope's call for reconciliation
``That is really the only way forward, especially in these difficult times, and the only way to achieve the peace that all parties profess to want,'' Boucher said.