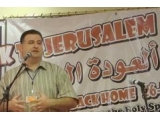 The theme of the campaign and its title "Back to Jerusalem" aims to bring back the Gospel to the place it all began in Pentecost day 2000 years ago and from there to reach the out skirts of the earth. So, local Christians and International members gathered together in the Holy Land Hotel in East Jerusalem, and studied about the great commission. The conference included sermons from Rev. Dr. Joel Hunter, pastor of Northland mega church in Orlando Florida. He preached about equipping the church for the great commission, sending the church, planting churches and how to be a witness to Christ.

It has been Dr. Hunter's first visit to the Holy Land. In a special interview for "Come and See" with pastor Hunter, he mentioned that he has been praying about this opportunity to come to Israel for some time and it has been an answer to prayer. He never wanted to come as tourist, but was looking for an opportunity to minister in the Holy Land. He said that he had lots of invitations to speak at conferences this summer, but declined them all. He said that he has been praying about an opportunity to engage with something with the church in the Middle East, and this invitation seemed as the right thing and he is happy he has came. He shared that the Lord has gave him a heart to reach out to Arabs, as he has been involved in Christian-Moslem Dialogue in recent years.

The worship in the conference was led by the Keynote musicians from Indianapolis. Vice president of CCC for Africa, the Middle East and Central Asia shared too about the ownership of the great commission. The conference included workshops and seminars in preparation of the actual outreach in the week after the conference.
As a preparation for the outreach week, CCC had published ads in local web sites and local newspapers asking those that would like to get the Holy Bible or a visit to call a toll free phone and leave their name. In few occasions in the Nazareth area, few of the street banners were vandalized. Local churches together with the team from abroad will conduct the visits. The "Blue sky nine" Christian team will conduct Christian outreach concerts for youth with Rock and hip-hop music in different locations in the north.
The outreach teams are scheduled to be get back to Jerusalem after the end of the campaign for conclusion of the "back to Jerusalem" effort, for a celebration and symbolic sending out of the teams from abroad to reach the outskirts of earth.