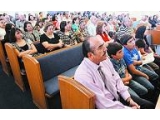 San Bernardino Arabic Christian Church serves a widely dispersed, and ecumenical, group of Arab Christians in the Inland area.
More than 200 people attend Arabic-language services every Sunday at the Arabic Christian Church. Nearly 100 more attend the church's satellite services in Moreno Valley, Palm Springs and Victorville. The immigrant families come from Egypt, Jordan, Lebanon, Syria, Iraq, Israel and the Israeli-occupied Palestinian territories, said the Rev. Solomon Nazzal.
Nazzal founded the church 20 years ago because "there was a huge Arabic community and nobody was serving them. I felt a call from God to plant a church here" At the time, Nazzal was minister of a small Arabic church in Riverside. A Riverside Southern Baptist church now runs that Arabic-language ministry. Nazzal is with the Free Methodist Church.
There were nearly 16,000 people of Arab ancestry in Riverside and San Bernardino counties in 2000, according to the U.S. Census.
No survey reflects how many were Christian, but nationally, nearly two-thirds of Arabs in the United States are Christian, a 2002 Zogby International poll found.
Less than a quarter are Muslim, even though Muslims represent a big majority in the Middle East.
The disproportionate number of Christian Arabs in the United States is largely because many of the early Arab immigrants came from Lebanon and Syria, countries that traditionally have had large Christian populations, said Susan Ossman, a professor of anthropology and director of global studies at UC Riverside.
Those countries had more trade connections with and awareness of the United States when immigration began in the 1800s, Ossman said.
More than half of U.S. Arabs are of Lebanese or Syrian background. Today, some of the Christians coming to the United States, especially those from Egypt and Iraq, are escaping religious discrimination and repression, she said.
Most Christian Arab-Americans are Roman Catholic, Maronite Catholic or Eastern Orthodox, the Zogby survey found.
Nazzal said some of the worshippers at his church are practicing Catholics or Orthodox Christians who do not have nearby Arabic-language services in their denomination.
The weekly service begins with singing. Nature and religious scenes flash on a video screen above the altar, with song lyrics in Arabic superimposed.
The adults stay in the sanctuary for an Arabic-language sermon. Young people go to youth group and Sunday-school classes, which are in English because some of the children and teenagers speak little or no Arabic. The youth group serves as more than a religious gathering, said Tracy Taouil, 17, of Corona.
It also brings together Arab-American youth from throughout the Inland area for a rap session on the cultural differences they have with many of their non-Arab counterparts, such as strict curfews and other rules that are common in Arab families, Taouil said.
Farideh Sarraf, a Palestinian who arrived in the United States 29 years ago from Jordan, speaks fluent English. She sometimes attends an Orange County English-language church with her children.
But the Fontana woman prefers the Arabic-language services in San Bernardino. "When I was young, I studied the Bible in Arabic," Sarraf, 61, said. "I know all the songs in Arabic, because I grew up with them. This is my culture, my traditions."

Information: www.sbachurch.com