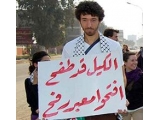 A German Foreign Ministry spokesman said the German Embassy in Cairo was working to clarify the case with Egyptian authorities. The spokesman spoke on condition of anonymity in line with department policy.
Egyptian authorities regularly detain activists deemed critical of the government, holding many of them in undisclosed locations without charge. Rights groups have accused authorities of abusing detainees.
Rizk contributed to a blog about the Gaza Strip that includes recent postings about the 22-day Israeli military offensive against the territory's Hamas rulers. Some of the postings criticized the Egyptian government's response, accusing it of allowing only small numbers of injured Palestinians to cross into Egypt for medical treatment.
Egypt's government is sensitive to accusations that it contributed to suffering in Gaza by not opening the border to more aid shipments.
A photograph of Rizk taken by other demonstrators at Friday's rally shows him holding a sign reading: "We have had it. Open Rafah crossing," referring to the border terminal between Gaza and Egypt.
El Dawla, who runs an organization helping victims of torture called the Nadim Center, said police asking for Rizk by name took him from a group of a fellow protesters traveling back to Cairo Friday in a minibus. He was then taken away in a van with no license plate.
Rizk's parents filed a complaint with a public prosecutor's office and were told only that the student was being held by State Security, she said.
"He is in the custody of State Security, which means illegal detention and a high probability of torture and ill treatment," she said. "The fact that they are not saying where he is is very worrying."
Authorities have not given a reason for Rizk's detention or announced any charges against him, El Dawla said.
Friends and supporters of Rizk spread word of his detention on the social networking Web site Facebook. They also wrote a letter to the board of trustees of the American University to call on them to seek his release. A rally was held Sunday at the university to demand his release.
The university said in a written statement that it was "working with Egyptian authorities to ascertain Rizk's status."
"The university shares the concern for his health and safety with his family and friends and is doing all that it can to ensure his release."
Rizk, whose mother is German and whose father is Egyptian, holds dual nationality.